The Best Credit Cards in Singapore for Online Shopping
Online shopping is often like dating. Your first time is naturally filled with some anxiety, but it usually gives you enough motivation to try again. You get good at it, you start to enjoy it, you stop taking precautions and soon a hacker is posting nude photos of you online.
But the fact still remains that some of the best deals and the widest selection are found exclusively online. So here are the best credit cards that will help you maximise your money in online shopping.
1. DBS Live Fresh Card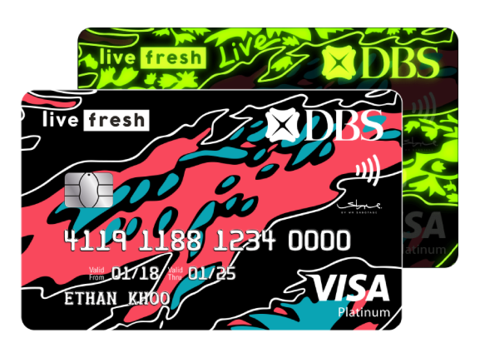 ---
Card Benefits
Online Exclusive - Up to S$100 Cashback
Up to 10% cashback
Win a customised Nike Air Force 1 sneaker and G-Shock Watch by SBTG
Win a 5D4N trip to Moscow to watch the FIFA World Cup live
Win S$88 with PayLah!
5% cashback when you shop online
Additional 5% cashback for the first 6 months with S$600/month min. spend; Cashback cap at S$60/month
Sign up within 8 Jan - 31 Mar 2018
The DBS Live Fresh Card has endured the competition to become the credit card of choice for online shopping. By offering 5% cashback on all online spend, it has become one of the highest online rebate rates in the market today. What's more, you also enjoy 5% cashback on all Visa payWave, Apple Pay, Samsung Pay and Android Pay transactions.
And this 5% cashback rate looks like it's here to stay. Along with a fresh new look, the DBS Live Fresh Card is now officially a cashback rebate card and will not earn DBS Rewards Points any longer.
So, what's the catch?
While the minimum spending requirement of $600 to earn bonus cashback is relatively low, the only real restriction of the card is is the $60 bonus cashback cap. Note that you will still continue to earn cashback after you hit the cap, just that all your spending will subsequently earn only 0.3% cashback.
Interested in the DBS Live Fresh Card? Apply here. New applicants who apply before 31 March 2018 will enjoy an additional 5% cashback for an unbeatable 10% cashback for the first 180 days after the card has been approved.
2. Standard Chartered Spree Credit Card
Standard Chartered Spree Credit Card
---
Card Benefits
20% Cashback on Uber Rides globally
Get up to S$120 cashback when you sign up and use your new Credit Card
Win up to $1,888 Cashback
3% cashback on all online spends in foreign currency
2% cashback on all online spends in local currency, contactless and mobile payments
20% off vPost shipping fees for air shipments to Singapore, capped at $1250 per shipment
Online Price Guarantee: refund of 50% of the price difference if you find a lower price for the same item within 30 days of your online purchase*
Formerly known as the Standard Chartered SingPost Platinum Visa Card, the Standard Chartered Spree Credit Card is still one of the best for online spending. It gives you 3% for all online spending in foreign currency and vPost costs and 2% for all online spending in local currency.
Most importantly, it doesn't have a minimum spending requirement. That means you can enjoy 3% rebates whether you spend $50 or $500 online that month. Oh, and there's a 2-year annual fee waiver too!
In addition to being a great online shopping credit card, the Spree Credit Card also earns you 2% rebates for all contactless and mobile payments, and 1% rebates on all other retail spending.
So, what's the catch?
The cashback cap is $60, which means you can earn 3% rebates on up to $2,000 online spend in foreign currency.
The Standard Chartered Spree Credit Card is therefore only ideal for those who tend to spend less than $600 online a month. Which, honestly, should be the majority of online shoppers.
Interested in the Standard Chartered Spree Credit Card? Apply here. New applicants who have never had an active Standard Chartered credit card and apply before 31 January 2018 will be eligible for up to $138 cashback if they apply online.
3. HSBC Revolution Credit Card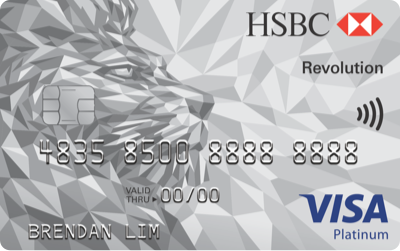 HSBC Revolution Credit Card
---
Card Benefits
Get an American Tourister Caravan 70cm TSA luggage (worth S$260) + $20 Cash Back
5% Cash Back on Online Spends
5X Rewards points on Online, Dining and Entertainment transactions
Includes airline/movie/concert tickets, hotel/travel/taxi bookings, food orders, insurance premiums, and online shopping sites
Excludes brokerages/securities and money payment/transfer websites
If you're not a fan of cashback rebates, the HSBC Revolution Credit Card is the choice for you. You can earn 5X Rewards Points on your online spending when you charge it to the HSBC Revolution Credit Card. That's the equivalent of 2 air miles per $1 spent. Not bad at all.
You also get 5X Rewards Points when you spend on Dining and Entertainment, making this a pretty useful card for young people. Best of all, there is no minimum spending requirement and no limit to the number of Points you can earn as well! Oh, and did I mention the 2-year annual fee waiver?
So, what's the catch?
There's not much negatives to say about the HSBC Revolution Credit Card, except that not everyone may appreciate earning Rewards Points and converting them to air miles.
The HSBC Revolution Credit Card might also not be for credit card users chasing the latest credit card promotions. It is constantly and consistently among the list of best credit cards in Singapore, but never the best. While most credit card users in Singapore appreciate this, the more kiasu ones will not.
Interested in the HSBC Revolution Card? Apply here.
Honourable Mentions
Let's be honest here, the real value from a credit card comes from the cashback rebates and rewards you can earn no matter where you do your online shopping. Credit cards are like astute bartenders who keep passing you drinks while encouraging you to talk about your relationship problems. If they want you to keep spending, so they'll need to give you a reason to.
Which is why it's a pity the following credit cards just didn't give us enough reason to put them among the top 3.
OCBC Frank Card
---
Card Benefits
6% rebate on online shopping
0.3% rebate on everything else
Min. spend $400 exclude online spend and ATUs, capped at $60 for all rebates
The OCBC Frank Card used to be the best card for online shopping with 6% cashback on every online transaction. However, they've since made some changes to the terms and conditions which have made it less popular.
The maximum 6% cashback you're allowed to earn is $60 per month, but now you have to spend at least $400 on non-online transactions. Sure you can now get up to 5% cashback for spending with the OCBC Frank Card at cafes, cinemas, bars and other entertainment, but if you don't meet the minimum spend requirement, you won't earn the 6% cashback.
Get more information about the OCBC Frank Card here.
Citibank Rewards Card
---
Card Benefits
Get S$120 Cashback
MoneySmart Exclusive! - Free S$100 CapitaVouchers
10X Rewards (10 points or 4 Miles) for every S$1 spent on Shoes + Bags + Clothes at Online, Retail or Department stores, locally and overseas
Enjoy discounts of up to 50% at Foodpanda, Lazada, Zalora, Reebonz, and more
S$1 spent = 1 Rewards point (All other spend)
The Citibank Rewards Card earns you 10X Citi Dollars for every $1 spent online. That's 4 air miles per $1 spent. That's great!
However, this 10X bonus excludes spending on travel, airlines, government payments, cinema tickets and insurance. In fact, it only applies to online shopping merchants whose main business activity is shoes, bags and clothes. That's not so great. This limitation is what keeps the Citibank Rewards Card from making the top 3.
However, if your online spending comes from shops like Nike, Levi's, Pull&Bear and so on, then the Citibank Rewards Card is the card for you.
Get more information about the Citibank Rewards Card here.
What is your favourite card for online shopping? Let us know!
Keep updated with all the news!
Get the latest personal finance tips and tricks delivered to your inbox!
We promise never to spam you!
Tags: Credit Cards, Featured, NLW1746P05, Shopping